Provides up to 4-hour fire protection in construction joints per ASTM E 1966 (UL 2079)
Provides up to 3-hour fire protection in perimeter fire barrier systems (curtain walls) in accordance with ASTM E 2307
Highly elastic sealer is compression/extension tested up to ± 50% of nominal joint width without cracking
Resists freezing and thaws for a consistent seal in a range of conditions
Details
Provides up to 4-hour fire protection in construction joints per ASTM E 1966 (UL 2079)
Provides up to 3-hour fire protection in perimeter fire barrier systems (curtain walls) in accordance with ASTM E 2307
Highly elastic sealer is compression/extension tested up to ± 50% of nominal joint width without cracking
Resists freezing and thaws for a consistent seal in a range of conditions
Water-based formula cleans up easily and saves time
Our 3M™ FireDam™ Spray 200 is a sprayable material that dries to form a tough, elastomeric coating. It will firestop building joints, curtain wall perimeter joints and through penetration seals to control the transmission of fire, heat, smoke and noxious gas. This water-based firestop sealer is applied with conventional airless sprayers, dries quickly and cleans up easily.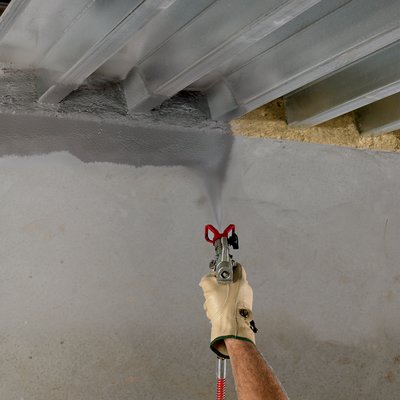 Superior adhesion to most construction materials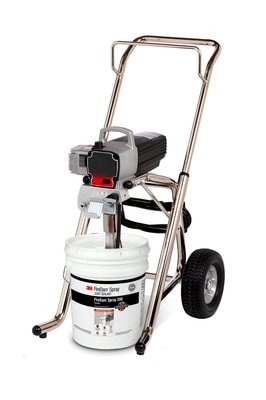 Applied with conventional airless sprayers
Effective Fire Protection in a Flexible, Durable Coating
Formulated for flexibility that stays where it's sprayed, our 3M™ FireDam™ Spray 200 controls the transmission of fire, heat, smoke and noxious gasses before, during and after exposure to fire. It provides up to 4-hour fire protection in construction joints per ASTM E 1966 (UL 2079) and up to 2-hour protection for through penetration systems per ASTM E 814 (UL 1479) & CAN/ULC-S115. It also provides up to 3-hour fire protection in perimeter fire barrier systems (curtain walls) in accordance with ASTM E 2307. This firestop coating is Ideal for sealing building joints, penetration seals and perimeter joints between fire-rated floors and fire-rated walls. It also minimizes noise transfer (STC Rating of 56 when tested in a STC 56-rated wall assembly).
This elastomeric coating forms a durable, flexible seal with up to +/- 50% compression/extension of nominal joint width without cracking. It resists sag for vertical applications, and displays excellent hiding power which makes it easier for technicians to maintain the proper coating thickness.
Recommended Applications
Floor to floor joints
Perimeter joints (curtain walls)
Head-of-wall joints
Easy Spray-On Fire Protection
Our water-based, easy-cleanup 3M™ FireDam™ Spray 200 is applied using conventional airless sprayers. Applied as a 1/8" (3mm) coating, it dries quickly to a uniform seal in a variety of conditions. It is also freeze and thaw resistant, helping to ensure consistent firestop in a range of conditions during construction. 3M™ FireDam™ Spray 200 is available in a distinct red for easy identification, or a dark gray to match existing surroundings.
Reliable and Affordable Fire Protection
Effective and easy to install, 3M™ FireDam™ Spray 200 is part of our family of fire protection products that offer the broadest, long-lasting solutions for a variety of commercial, industrial and residential applications. As a trusted leader in the fire protection industry, 3M offers a broad line of affordable products designed to meet the most demanding firestop requirements. Find the solution you need from the industry-preferred line of fire protection products.
Learn more about 3M™ FireDam™ Spray 200. (PDF, 312.1 Kb)
Additional information
| | |
| --- | --- |
| Dimensions | 26 × 26 × 26 cm |